Archive for the 'Events' Category
Da'rrell Cloudy and Jay Bean @ Deep Ellum Market
When: Saturday March 19th, 2011
Where: Stage, Indiana at Malcolm X
WordSpace and Deep Ellum Market present songwriter/poets Da'rrell Cloudy and Jay Bean in an inspiring interface of old Deep Ellum and what makes things new.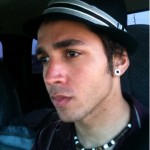 Da'rrell Cloudy began writing as a child prodigy of his father, poet Joey Cloudy. By 13, he had published a chapbook of poems, entitled "A Bullet To The Brain" and was presented as a Writer in the Schools in Dallas area schools. He has been a regular feature of open mic and poetry salon scenes since he was 11.
Jay Bean and Da'rrell began their music collaboration in Longview High School, later forming the electronia band Atrium and recorded a demo. Atrium was temporarily disbanded in circumstantial vagaries and Da'rrell and Jay have been performing as a duo all over the Dallas.
Gifted voices, contemplative perspectives, and beatific personas–Look for Da'rrell and Jay onstage behind Cafe Brazil at Deep Ellum Open Market, the historic neighborhood festival and brainchild of Brandon Castillo.
---
Prudence the Auset:
When: Friday March 18th
Where: It's a Grind Coffee House, 2901 Indiana

Prudence the Auset, is often referred to as the common day Maya Angelou. She was born the only female child to Raymond W Sneed, III and Frances J Sneed in July of 1975. The story as told by her mother is that she was named by the Most High himself.
Prudence means wisdom in everyday life.
Prudence the Auset began her career as an Actress at the age of 14. Her first debut was in the stage production "For Colored Girls Who've Considered Suicide When the Rainbow was Enough". Produced by Mr. Willie A Minor at the South Dallas Cultural Center. At the age of 35, Prudence the Auset is still a part of the theatrical stage and performing in hit stage plays such as Body Parts, The Pastor's Wife, Gossip is the Devi's Mailman, You Better Ask Somebody and Through the Fire just to name a few. She has also had her Director's debut in the upcoming motion film, In the Rain. A TIC and Isis Entertainment Production, and will be appearing in the Svelte Production film, What If The Grass Ain't Greener…
Before there was acting there was a passion burning in this woman that in the year 2005 could no longer be smoldered. She appeared at a poetry reading in the heart of Dallas, Texas at the request of a family friend and the rest is history. Prudence the Auset hosted Poetry N Jazz for 2 years at TePheJez Jazz Club located in the heart of downtown Dallas, Texas. Prior to Poetry N Jazz, she was the co-host of Eklectic Nonsense which featured at the downtown Mosaic Lofts and later moved to TePheJez Jazz Club. She has shared the stage with poetry legends such as, RockBaby, GNO, Red Storm, Nnamdi, Black Page, Michael Guinn and Janean Livingston, just to name a few.
She often refers to her poetry as a testimony and storytelling. Prudence the Auset is known to take lemons and make lemonade with poetry. Her words have a way of traveling down some of the darkest of roads and finding light. She's not only creative but inspiring. She's the goddess of poetry forever evolving into divine light and truth.
Hosted by RockBaby and Alexandra Marie
---
The Roxy Gordon Members Salon Series
When: Thursday March 10th, 2011
Where: Green Hill School
Abe Louise Young and Anne BoyerWordSpace is honored to partner with Greenhill School and Farid Matuk to share our Members Salon selections with their classrooms.
Abe Louise Young was born in New Orleans, Louisiana. She is an award-winning poet and journalist, who has long worked to reveal, chronicle, and publish forgotten voices. Her written documentary work has ranged from projects interviewing Holocaust rescuers and Hurricane Katrina survivors to mentoring gang-affiliated and transgendered youth writers. She has published poems in The Nation, New Letters, and Witness, and chapbook of poetry, Ammonite. Her anthology, Hip Deep: Opinion, Essays, and Vision from American Teenagers, was published by Next Generation Press.<
Anne Boyer's poetry has appeared in Shampoo, The Denver Quarterly, Unpleasant Event Schedule, and other journals. She is the author of the full-length poetry collection, The Romance of Happy Workers (Coffee House Press).
Anne Boyer is the author of a novel, Joan, forthcoming from Bloof Books in 2011 and she has also written a number of critically acclaimed chapbooks, including Anne Boyer's Good Apocalypse (Effing Press), Art is War (Mitzvah), and The 2000s (Free Poetry).  Recent poetry and prose can be found in Lit, Columbia Poetry Review, Burdock, and Property Press. She is a lecturer in  digital culture, philosophy, and creative writing at the Kansas City Art Institute
---