Archive for the 'Events' Category
What: The Latino Arts Festival in Bishop Arts, Sponsored by Domingo Garcia, WordSpace, Latino Cultural Center, and MFA Gallery
Who: Carlos & Opalina Salas, Joaquin Zihuatanejo, Natasha Carrizosa, Ricardo Garcia (Bios)
When: Sunday, November 4, 12 noon-5 pm
Where: Bishop Arts District, Bishop Street in Oak Cliff between 7th and 8th Street
More: Superstar Art Contest, Music, Dance, 16 tents of exhibitions and interactive activities
Plus: Children's Story Time with Dallas City Councilwoman Delia Jasso
Admission: FREE
Schedule of Stage Performances:

12 Noon: Wecome by Domingo Garcia, WordSpace (WS) and other festival sponors and organizers
12:45: WS presents: Joaquin Zihuatanejo & Natasha Carrizosa
1 pm: WS & Lucky Dog Books present: Dallas City member Delia Jasso in Children's Story Time
1:00 : Felix Flores

1:45 pm: WS  presents: Ricardo Garza
2:00: tba

2:45 pm: WS presents: Opalina Salas
3:00: Salsa with DJ Guero

3:45 pm: presents: Carlos Salas
4:00: Mariachi Quetzal
Opalina Salas is the co-Beat Sensibilitist former owner, proprieter of Cliff Notes Prolonged Media Bookstore with her husband, poet Carlos Salas. She has hosted, curated and read in venues all over Dallas. Opalina Herebia Salas is the Editor of Let It Bleed and a de-facto Oak Cliff Director for women advancing their claim to Lit Pack recognition. She is included in the upcoming University of Texas Press on Texas Beat Writers.
Joaquin Zihuatanejo:  Joaquín Zihuatanejo is a poet, spoken word artist, and award-winning teacher. Born and raised in the barrio of East Dallas, in his work Joaquín strives to capture the duality of the Chicano culture. Sometimes brutal, but always honest his work depicts the essence of barrio life. A National Poetry Slam Finalist, Grand Slam Spoken Word Champion, and HBO Def Poet, Joaquín has performed all over the Unites States, Canada, Mexico and Europe. In 2005, Joaquin was featured on season five of Russell Simmons Presents Def Poetry for HBO.For seven years Joaquín was an award-winning English and creative writing public high school teacher for ninth and eleventh grade students inspiring a new collection of poems from the classroom entitled Stand Up and Be Heard. For the last four years Joaquin has taken a break from his teaching position to tour North America and Europe teaching workshops and performing his one man spoken word show at hundreds of colleges, universities, conferences and poetry slams. In his extensive journey as a professional performance poet, Joaquin has shared a stage with Billy Collins, Saul Williams, E. Lynn Harris, Alicia Keys, and Maya Angelou among others. Joaquín recently won the 2008 Individual World Poetry Slam Championship and the 2009 World Cup of Poetry Slam in Paris, France,. He currently lives just north of his hometown of Dallas with his wife and two daughters. Joaquín has two passions in his life, his wife, Aída, and poetry, always in that order.
Natasha Carrizosa is a poet/writer who celebrates her dual heritage (African- and Mexican-American) with works that weave an intoxicating blend of cultures, languages and impressions. She lives and writes in Texas, and has shared her work at different venues from Texas to New York – from the Yellowhouse Gallery to the Nuyorican Poets Café. Her writings have been featured in Rhapsody, Our Texas magazines, as well as other online publications. She is author of "Mejiafricana", a spoken word cd and "Nude – A Collection of Love and Erotic Poems".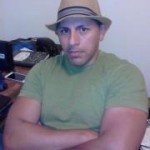 Ricardo Garza – Originally from the Rio Grande Valley ( Edinburg ) Ricardo has been writing and performing from South Texas to the Bay Area. A prolific writer and performer he has been featured in colleges and High school and middle schools where he has also conducted poetry workshops as part of Writers in the Schools funded by the The Writer's Garret and the City of Dallas.  Also appearing in print, college radio and public television, Ricardo's contemplative writings on the common and disenfranchised minority appear in his chapbook, Blood Brother's y otros Poemas, and spoken word CD, Fiebre del sol.
---