Archive for the 'Events' Category
What: Deep Ellum Lit Hop
When: Saturday, July 30, starting at 6 pm
More Info: WordSpace@WordSpace.Us, 214-838-3554
Deep Ellum Lit Hop is a one night festival-style walkabout experience of literary events!
WordSpace, Dallas's favorite non-profit literary organization, takes on a new meaning for its slogan "Get Lit" with the announcement of the biggest bookish gathering Dallas has seen in 2016. Deep Ellum Lit Hop is a well-read bar crawl experience going down in — you guessed it — Deep Ellum on July 30, 2016. Guests attending this FREE event are encouraged to wander between bookshops, art galleries, and bars to enjoy an eclectic collection of literary atmospheres!
To set up such a momentous event, Sebastian Paramo and courtney marie (coordinating hosts of Pegasus Reading Series) recruited eight local organizers of some of the liveliest literary happenings across DFW. Reading series and collectives represented include Dark Moon Poetry & Arts (Dallas), Pegasus Reading Series (Dallas), Spiderweb Salon (Denton), Art & Words (Ft. Worth), Pink Drum (Dallas), and special events hosted by Deep Vellum Books, Lauren Belmore, and Caitlin Pryor. Each host will be curating their own hour-long showcase featuring some of their
favorite writers. Merritt Tierce, Megan Peak, Kendra Greene, Paula Mendoza, Griselda Castillo, and courtney marie are among the readers that have been confirmed.

CLICK TO DOWNLOAD FULL SCHEDULE HERE.
Tiny Zine Make-and-Take with White Rock Zine Machine
Deep Vellum Books. 6-7 pm. All ages.
Make a mini zine to keep, contribute your creative ideas about color to the next round of zines to be featured in the White Rock Zine Machine, hear readings from Zine Machine contributors, and don't forget to pop in a quarter and turn the knob!
Spiderweb Salon
Drugstore Cowboy. 6:30-7:30 pm. All ages.
Darryl Ratcliff
Fatima-Ayan Malika Hirsi
Griselda Castillo
Jesse Porter
Melissa O'Leary
Sarah Ruth
Walker Smart
Dark Moon Poetry & Arts
Deep Vellum Books. 7:30-8:30 pm.
Jess Garland
Courtney Marie
Paula Mendoza
Leah Tieger
Merritt Tierce
Reject Faction: Experimental Poetry & Sounds
Drugstore Cowboy. 8-9 pm. All ages.
Hannah Jove
Traci Theibaud
Cody Cantu
Wyatt Rosser
Hannah Weir
Tori Whitehead
Machele Johnson
Orion Centauri
Lauren Maxwell
Spurs of the Moment: Texas Poets on Spontaneity & Form 
Wit's End. 7:00-8:00 pm. All ages.
Chad Abushanab
Mag Gabbert
Evan MGarvey
Megan Peak
R. Flowers Rivera
Art&Words at Deep Ellum Lit Hop
The Armoury. 8-9 pm. All ages.
Bonnie Jo Stufflebeam.
Allyson Whipple
Cole Dalton
Matthew Pitt
Logen Cure
Pegasus Reading Series
Kettle Art. 8:30-9:30 pm. All ages.
Tim Cloward
Tamitha Curiel
Lisa Huffaker
Joe Milazzo
Caitlin Pryor
Opalina Salas
Sophia Terazawa
Pink Drum
Kettle Art. 9:30-10:30PM. All ages.
---
WordSpace presents "Looped", featuring poems or prose by Jennifer Whalen, Darryl Ratcliff, Courtney Marie, Christopher Hughes, Fatima Hirsi, and Edyka Chilomé.
Created and Hosted by Leah Tieger.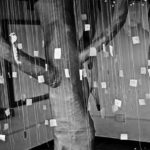 Looped offers an escape from stages and folding chairs arranged in rows. Poems are simultaneously broadcast, encountered inside headphones, and translated as visual installation: Poetry grows on trees.
For one night, The Wild Detectives becomes an exhibition space that challenges the traditional literary medium, opening the written word to an experience outside of the book's confines.
BIOS:
Jennifer Whalen is Texas State University's 2015-2016 writer-in-residence at the L.D. & LaVerne Harrell Clark House in Smithville, Texas. She served as the poetry editor for Front Porch Journal, and her poems can be found or are forthcoming in Gulf Coast, New South, Fugue, & elsewhere. She currently teaches college English.
Darryl Ratcliff is an artist and poet based in Dallas, TX and is the founder of the North Texas poetry label Pink Drum. As an artist his work focuses on the topic of cultural equity, and his projects include Ash Studios, Creating Our Future, and Michelada Think Tank. Ratcliff is currently featured in Art in America, and is a recent recipient of artist awards from the Dallas Museum of Art, Nasher Sculpture Center, and the Office of Cultural Affairs, City of Dallas.
courtney marie is a writer and artist currently living in denton, texas. she enjoys working with text as an art medium and performance object. her work has appeared in Crab Fat Magazine, Spooky Girlfriend Press, Literary Orphans, Black Sun Lit, The Thing Itself, etc. but also in basements and museums, street corners and art galleries; in cities all over the country. she is the co-founder and primary organizer of spiderweb salon, an art collective based out of denton, co-host of Pegasus Reading Series in dallas, and the host of spiderweb salon's literary podcast, produced by Pariah Art. she writes a lot of letters.
Fatima-Ayan Malika Hirsi is the founder of Dark Moon Poetry & Arts, a platform of expression for North Texas women blending visual art, music, and poetry. She teaches poetry workshops in schools, shelters, and libraries as an educator for the Writer's Garret. Her work has been featured in a few journals and in many venues across the state, and usually addresses aspects of womanhood or pieces of the previous night's dreams. She likes to write typewriter poems for strangers on sidewalks and to drink whiskey in her morning tea. See her work at flowerwordspoetry.com.
Edyka Chilomé, is a queer woman of color writer, artist, social justice educator, and spiritual activist. She currently serves as a faculty member for Free Minds Dallas and is often found sharing her poetry and stories that touch on identity, colonization, indigeneity, womyn, spirit, art, and diaspora.
Christopher Hughes is the author of Selected Tweets, a spoken word project and ongoing collection of prose poems based around the idea of giving context to his otherwise vague Twitter feed. He is the singer, guitarist, and songwriter for The Calmative, and he produces other artists as well, out of his studio, Miscellaneous Sound. He holds an MFA in creative writing from The New School, and lives in Dallas, Texas.
---