Archive for the 'Events' Category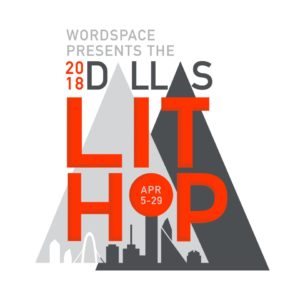 Saturday, April 7, 4-8
Deep Ellum Art Company, 3200 Commerce, 75226
Performance Lit Showcase
featuring
4-6 pm: Outdoor Stage
Faded Deejays
Music and Rap Collective
(Rafael Tamayo, Ekzile, Mutemor, Soi, Lil Chris, Nemeses, Storm, Roc-it)

Julissa Martinez
Writer and Rapper
Southern Outcasts
Musicians, Writers and Rappers
(Mike Johnson, KL, Jenoba)
Indoor Stage:

5:30 pm
Dancing Tongue
(Tim Cloward, Lisa Huffaker, Kim Corbet, Fran Carris, Richard Allen) 
6:00 pm
The Summit: MC 900 Ft. Jesus-Decadent Dub Team
(Mark Griffin and Jeff Liles)

6:30 pm
Jessica Thomas
(Independent dance artist)
7 pm
Dead White Zombies
Winner, Dallas Observer Best Theatre 2017
(Thomas Riccio & Co.)

Faded Deejays is a Dallas based collective. In sharing the love for music & culture, we host a monthly party (looks like we're their party this month!), along with several events at different venues around town. Always four turntables, hosted by Ekzile, with music that varies from Hip-Hop to Cumbia and everything in between. The collective includes Rafael Tamayo, Ekzile, Mutemor, Soi, Lil Chris, Nemeses, Storm, Roc-it)
Julissa Martinez is a brilliantly talented rapper and writer based in Pleasant Grove.
Jessica Thomas is an independent dance artist and multidisciplinary explorer. Her inborn curiosity for the latent unknown– inside and outside of ourselves– serves as a continuous source of playful investigation and evolution. The core of her performances stem from self-inquiry collaborations with Contemporary Dance/Fort Worth and surrounding DFW creatives. She is also the founder of The Soma Movement– thesomamovement.com— where she provides integrative bodywork and expressive arts therapies.
The Summit: Jeff Liles and Mark Griffin. Bringing together anecdotes of antics in the Deep Ellum music scene, in a  conversation between two of its most distinguished writers. Jeff Liles is artistic director of the Kessler Theatre, former director of Theater Gallery and Roxy Theater in LA, a writer and member of Decadent Dub Team. Mark Griffin is a classically trained turned rapper and experimental musician performing and recording as MC 900 Ft. Jesus.
Southern Outcasts (Mike Johnson, KL, Jenoba)  is a thrilling new rap group based in Pleasant Grove and  making big waves.
Dead White Zombies–Thomas Riccio is the founder and director of the immersive theatre group, Dead White Zombies. College professor, gypsy and distinguished artist, Riccio presents an installment from his upcoming year long, city wide new production–"Blue Jelly".
Dancing Tongue is a poetry/performance ensemble which takes the spoken word, scrambles it with music, visual art, movement and video to demonstrate that literature can fuse highbrow sensibilities with low cost aesthetics. The troupe has performed around Dallas since 1990.  The current edition of Dancing Tongue features founder, Tim Cloward, and independently distinguished artists, Kim Corbet, Lisa Huffaker, Fran Carris, and Richard Allen.
---