Archive for the 'Events' Category
What: ArtSpeak
When: Saturday, 9/29, 8:30 pm
Where: Mighty Fine Arts, 409A N. Tyler St., 75208
WordSpace presents performance art in conjunction with Andy Don Emmons' art exhibition at Mighty Fine Arts.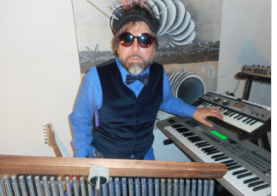 Insecto-Ray Orchestra,
features the immensely talented
Marco Villalobos
and his awesome musical partner
Werner Heimlich
, The Insecto-Ray Orchestra could be described as a neo-psychedelic mutant jazz spoken word disco dance band if you're impressed with labels but they really pretty much define themselves as they go along, constantly overstepping musical boundaries and endlessly improvising and experimenting. This is only possible and intriguing due to the virtuosity of the players and their immense talents. Be sure to come out and check out the Insecto-Rays in a rare intimate setting.
This performance is in conjunction with the Artist reception for the Andy Don Emmons Show at MFA Gallery. Yes Oak Cliff's legendary hickster genius will be loading up the gallery with brand spanking new art that will set your brain to reeling and rocking. Mr. Andy Don will be channeling the haints of East Texas and digging deep into his back woods aesthetic. You can be sure there won't be any artsy posturing going on cause this will be some genuine low down for real Art. Get ready!

---
Who: False Flag Document
When: Friday, September 14, 8 PM
What: Poets on X+ Feature and Open Mic
Where: Mighty Fine Arts, 409 N. Tyler St. 75208
Hosted by: Opalina and Carlos Salas
Tony Duncan is The False Flag Document, hybrid electronic musician. Featuring mostly industrial style music with hints of synthwave and psychedelia.
WordSpace is honored to sponsor Poets on X+ Reading Series, created by Opalina and Carlos Salas, an ongoing series since 2007.
More on X+ Reading Series here!

---