WordSpace and the Kessler Theater have presented several knockout shows over the past few years. Shows featuring Dan Savage, Amy Sedaris, and Andrei Codrescu. But this year, thanks to the sponsorship of Half Price Books, we have an entire season planned. We are producing shows starting this October. Here is the line up: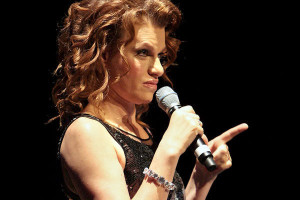 SANDRA BERNHARD — October 23, 2013. Remember when she and Robert de Niro kidnapped Jerry Lewis in Martin Scorcese's The King of Comedy? She may not be taking prisoners at the Kessler, but expect an evening of her no-holds-barred brand of comedy. She has requested that we provide a grand piano for the stage. We at WordSpace were a bit taken aback by the cost, but you know, even if she merely drapes herself across it, the money has been well spent.
NIKKI GIOVANNI — December 8, 2013. This is the point when I am supposed to list all the awards and honorary degrees this remarkable poet has received, but you can read about those on the WordSpace website. I'll just say that it is a long and impressive list, but here's the cool part. Robert Baker, a researcher at Texas Tech University and major Gioivannii fan, discovered a new species of bat in Equador and named it after the poet. For those whose Latin is a little shaky. the Micronycteris giovanniae can also be called Giovanni's small night flyer.
Tickets for both Sandra Bernhard and Nikki Giovanni are currently on sale at Prekindle:
Sandra Bernhard       Nikki Giovanni
LAURIE ANDERSON kicks off the 2014 season on March 13. Laurie Anderson has been presenting dazzling multi-media stage shows since her premiere with Oh, Superman in 1981. She is a singer, a storyteller. a composer, and a virtuoso of the neon violin. The Kessler offers an unusually intimate setting to see this mega-star working her special brand of stage magic.
JOHN WATERS — May 29. It has come to our attention that many of what we have come to think of as "the younger crowd" know Mr. Waters only through his delightful, PG musical Hairspray. If you are too young to have had your mind twisted and possibly your life changed by such transgressive midnight masterpieces of the 1970's  as Pink Flamingo's and Female Trouble, his one man presentation of This Filthy World will be your chance to catch up. Mr. Waters has asked only for a stool, a cordless mike, and a spotlight. But what more does a born showman need?
Tickets for both Laurie Anderson and John Waters will go on sale after January, 2014. Watch both the WordSpace website and Prekindle for updated information.