Board of Directors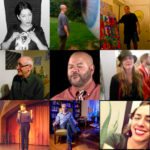 WordSpace is comprised of working writers, critics, musicians, artists and educators:
President
Charles Dee Mitchell (2010) is a freelance writer based in Dallas. Locally he has been a contributor to The Dallas Observer and The Dallas Morning News, and he is a frequent contributor to Art in America. He has written essays for exhibitions at The Dallas Museum of Art, The Columbus (Ohio) Museum of Art, The UCLA Armand Hammer Museum, and many other commercial and non-profit exhibition spaces. In 2008 he retired from Half Price Books, Records, and Magazines, where he was Executive Vice President of New Media Purchases and Proprietary Publishing. He is also active on the Dallas Video Festival board. Read Dee's Blog at www.potatoweather.blogspot.com. Winner: 2015 Dallas Observer MasterMinds Award. Dee is curator and host of First Hearings @ The Wild Detectives. 
Vice President
Roderick Goudy, aka Rock Baby (2011), is a graduate of University of North Texas with a Bachelor's of Applied Arts and Science with an emphasis in education. He began his career as an educator with P.A.C.E. Head Start in Mississippi. In 1999, Roderick began his career as a poet where he has become a nationally known performance poet performing across North America including television appearances. From 1999-2002, he held the position of PTA President of DISD. Roderick began organizing poetry competitions as the City of Dallas Slam Master for Dallas Poetry Slam in 2003. As a Slam Master, he has combined his love for art and education to organize and implement area writing and performance workshops, mentor young artists, guest lecture for community colleges and universities throughout the DFW Metroplex and nationally. Roderick has served as an art instructor with Junior Players Guild for over 3 years providing instruction in dance, writing, and theatre while addressing issues of bullying, self-esteem, and healthy conflict resolution. He is a frequent guest speaker for area schools addressing life skills critical to student success. Since 1988, he has held positions in the U.S. Army as a communications specialist, a pre-school, after-school and substitute teacher, committee member with WordSpace, a literary non-profit, board member with Family Care Connections, a social service non-profit with emphasis on healthy families and fatherhood initiatives. 
Treasurer
Jerry Kelley (1997) is a charter signing original member of WordSpace Board of Directors, published writer, Harvard in the 60s, Canadian Bush in the 70s. He lives in Dallas with his wife, poet Patty Turner.His work has appeared in a number of literary journals, including Southwest Review.
Secretary
Sara Cardona (2015): Sara Cardona is an educator, artist and humanities scholar with an extensive resume of leadership roles in arts education and international performing arts programs in Dallas, Mexico and India.  Her scholarship includes numerous translations and cultural conference leadership roles. Her work is included in numerous exhibitions. She is Professor of Arts and Humanities at Richland College.

Steve Cruz (2012)  is a Latino/Philipino artist, community activist, educator and owner of Mighty Fine Arts Gallery, with deep ties in multi-cultural, inter-disciplinary programming and exhibitions. He is the founder of many city festivals and events, partnered with Latino Cultural Center, Oak Cliff Cultural Center, the Kessler Theater, universities, high schools and other civic and non profit organizations. He is a former City of Dallas Office of Cultural Affairs panelist. Steve hosts ArtSpeak @ Mighty Fine Arts, a performance art series in conjunction with exhibition openings.
Laney Yarber (2014) is multi-award winning performance artist and patron of all arts. She is supporter of the Dallas and Ft. Worth Operas and has served on many boards, including African American Cancer Survivors and countless arts collaborations with many Dallas arts organizations. Her works have been funded by the Texas Commission on the Arts, National Endowment of the Arts and City of Dallas Office of Cultural Affairs, among others. Performances include X-Static: The Reveries of St. Theresa, Hippolytus, Saving the Farm and many other avant garde, multi-media extravaganzas.
Richard Bailey (2014): Richard grew up on fifty-two acres in East Texas. Like many creative Texans, he found his way to Austin, where he studied film at The University of Texas. Later, he earned a M.A. degree in Literature from the University of Texas at Dallas. His poetry collection REVIVAL was awarded Finalist for the 2012 Emily Dickinson First Book Award. He was nominated for a Pushcart Prize for a short story. His short films have shown in festivals across the country, including SXSW, Focus, Black Maria, Snake Alley, and at Anthology Film Archives in NYC. His play A SHIP OF HUMAN SKIN was  a Semifinalist at The Bay Area Playwrights Festival, 2012 and The Eugene O'Neill Theater Center's National Playwrights Conference, 2012. 
Brenda Randall (2015) is a poet and organizational leader for the longest running showcase of women's poetry in Dallas at South Dallas Cultural Center. She is co-host of "Verse and Rhythm" at Oak Cliff Cultural Center, "In the Words of a Sista" at Dallas Black Academy of Arts and Letters and numerous other readings She studied at Texas Women's University.
Executive Director/Program Chair (2009): Karen Minzer
Karen Minzer (Karen X) is a writer/poet/gypsy, published by the Austin Sun in the 70s, Paris Records in the 80s and Wowapi, 90s to present. In 1976 she discovered WordSpace founder, Robert Trammell, reading his poetry at Old City Park across the street from her home at the historic (grundgy) Ambassador Hotel. She is a former student and special friend to Jack Kerouac School of Disembodied Poetics, studied in poetics apprenticeship with Allen Ginsberg. She has also studied with Robert Creeley, Ed Sanders, Galway Kinnell, Anne Waldman, Jack Myers. With a lot of help from a lot of friends, she has curated thousands of writers for over 30 years–including Dial A Poet Television in Dallas and Boulder, Starck Club, Caravan of Dreams, and Morrison Street for Paris Records. Ms. X is a veteran performer/warm up shouter for songwriter-poets such as Frank Black, John Cale, Bad Brains, et al. She is a Dharma Broad and yoga student of Angela Farmer and Michelle Andrie and instructor with 500 hour E-RYT. She has served WordSpace for 13 years as program curator, coordinator, board member, board programming chair. Since 2012 she has served as  program director and executive director. Contact: Karen@WordSpace.us. A fun read on Karen and WordSpace by Jennifer Smart in the Dallas Observer. 100 Dallas Creatives: Underground Culture Mainstay Karen X. Minzer.  Winner: 2015 Dallas Observer MasterMind Award.
Program Director (2017): Joe Milazzo
Joe Milazzo is a writer, editor, educator, and designer. He is the author of the novel Crepuscule W/ Nellie (Jaded Ibis Press) and The Habiliments (Apostrophe Books), a volume of poetry. His writings have appeared in Black Clock, Black Warrior Review, BOMB, The Collagist, Drunken Boat, Tammy, and elsewhere. He co-edits the online interdisciplinary arts journal [out of nothing], is a Contributing Editor at Entropy, curates the Other People's Poetry reading series, and is also the proprietor of Imipolex Press. Joe lives and works in Dallas, TX, where he was born and raised.
QuickStaff:
Social Media: Reesa Cruz-Hawkins
Music: Phillip Washington
Web Master: Michael Stanford
Data Therapist: Teri Walker
WordSpace Logo: Art Garcia, GraphicContent
Video: Tropic Pictures
Advisors:
Sanderia

 Smith
Jean Lamberty
Vicki Meek
Harold Steward
Benjamin Espino
Adrienne 

Cox Clay
Intern Program:
(2016) Suza Kanon, University of Texas at Dallas
(2015) Paloma Salas, Maryland Institute College of Art
(2014) Sebastian Paramo, BA University of North Texas; MFA, Sarah Lawrence College
(2014) Libby Hayhurst, Washington Lee University
(2013) Darius Safavi, New York University
(2012) Jessical Tolbert, Oberlin College
(2011) John Fountain, University of Texas at Dallas
(2010) Anna Avery, Naropa University
 Past Board Members
THANK YOU FOR YOUR SERVICE!
Check out the distinguished and wonderful writers, artists, indie business owners, and educators who have served on the WordSpace Board of Directors. We wouldn't be here now without them. 
 Thank you to our 2017 Season Sponsors: