Da'rrell Cloudy and Jay Bean plus! 6×10 Showcase at Deep Ellum Market
When: Saturday April 16th, 2011
Where: Stage, Indiana at Malcolm X
WordSpace and Deep Ellum Market present songwriter/poets Da'rrell Cloudy and Jay Bean in an inspiring interface of old Deep Ellum and what makes things new.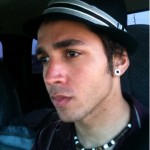 Da'rrell Cloudy began writing as a child prodigy of his father, poet Joey Cloudy. By 13, he had published a chapbook of poems, entitled "A Bullet To The Brain" and was presented as a Writer in the Schools in Dallas area schools. He has been a regular feature of open mic and poetry salon scenes since he was 11.
Jay Bean and Da'rrell began their music collaboration in Longview High School, later forming the electronia band Atrium and recorded a demo. Atrium was temporarily disbanded in circumstantial vagaries and Da'rrell and Jay have been performing as a duo all over the Dallas.
Gifted voices, contemplative perspectives, and beatific personas–Look for Da'rrell and Jay onstage behind Cafe Brazil at Deep Ellum Open Market, the historic neighborhood festival and brainchild of Brandon Castillo.
The 6×10 Showcase, 4pm
Deepening the onsite poetics experience of the Festival, Desmene Statum presents a showcase of 6 poets in 10 minute readings: Lilly Penhall, Opalina Salas, Johnny Olson, Michael Clay, Chris Zimmerly and Victory bring a taste of passionate poets who are among the finest of The Poetry Scene.
---
Leave a Reply
You must be logged in to post a comment.