The Roxy Gordon Members Salon Series
When: Thursday September 29th
WordSpace joins the celebration of Hispanic Cultural Heritage and Hispanic Culture during National Hispanic Heritage Month: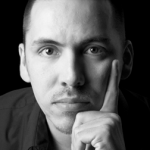 Joaquín Zihuatanejo is a poet, spoken word artist, and award-winning teacher. In 2005, Joaquín was featured on season five of Russell Simmons Presents Def Poetry for HBO. For seven years Joaquín was an award-winning public high school English teacher for ninth and eleventh grade students inspiring a new collection of poems from the classroom entitled Stand Up and Be Heard. For the last three years Joaquín has taken a break from his teaching position to tour North America and Europe teaching workshops and performing his one man spoken word show at hundreds of colleges, universities, conferences and poetry slams. In his extensive journey as a professional performance poet, Joaquín has shared a stage with Billy Collins, Saul Williams, E. Lynn Harris, Alicia Keys, and Maya Angelou among others. He recently co-wrote and produced Of Fire and Rain, (WordSmith Press) a CD of spoken word collaborations with Natasha Carrizosa. The project has been described as a testimony of life/love that spans from the barrios of East Dallas to the ghettos of the West Indies, excerpts of which were selected by Poetry in Motion to be published on posters on buses, light rail, and trains in major U.S. cities. The current Individual World Poetry Slam Champion, Joaquín recently represented The United States at The World Cup of Poetry Slam Championship in Paris, France and won that title as well. He currently lives just north of his hometown of Dallas with his wife and two daughters. Joaquín has two passions in his life, his wife, Aída, and poetry, always in that order.
"I was blessed to sort of be raised in a setting that was kind of filled with poems. From my grandfather's garden to the wild field," he said. "I surrounded myself with storytellers as a child constantly."
Natasha Carrizosa is a poet/writer who celebrates her dual heritage (African- and Mexican-American) with works that weave an intoxicating blend of cultures, languages and impressions. She lives and writes in Texas, and has shared her work at different venues from Texas to New York – from the Yellowhouse Gallery to the Nuyorican Poets Café. Her writings have been featured in Rhapsody, Our Texas magazines, as well as other online publications. She is author of Mejiafricana, a spoken word cd and Nude – A Collection of Love and Erotic Poems.
Joaquin Zihuatanejo and Natasha Carrizosa will be performing in Duet.
---
Leave a Reply
You must be logged in to post a comment.