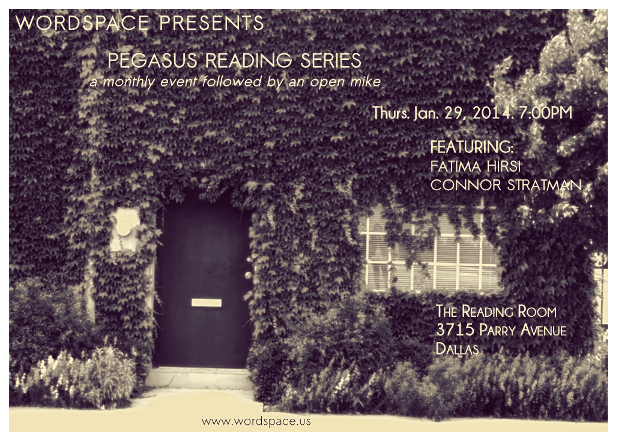 We're proud to present to you our Pegasus Reading Series at The Reading Room this month!
Pegasus is a new monthly forum for poets and writers to showcase their work in the DFW area. This month we showcase the work of Fatima Hirsi and Connor Stratman.
Fatima Hirsi comes from the water. She was raised by her mother and her nana on bedtime stories that instilled a love for words. When not reading about ethnographic fieldwork, she gives poetry to children in north Texas schools, shelters, and community centers as an educator for the Writer's Garret. She's appeared in various Sound Culture productions and featured her work across Texas. Her poetry has appeared in Vagabonds, the anthology of the Austin International Poetry Festival, and the anthology Poem Your Heart Out. She can often be found in public spaces making poems for strangers on her typewriter. See her work at flowerwordspoetry.com.
Connor Stratman is a poet and literary critic from Dallas, Texas. His books and chapbooks include VOLCANO (Writing Knights Press, 2011), SOME WERE AWAKE (plumberries press, 2011), and AN EARLY SCRATCH (Erbacce Press, 2010). His work has appeared in such journals as Moria, Counterexample Poetics, Moss Trill, Earl of Plaid, Dead Snakes, Polari, Otoliths, Ditch, Etcetera, and many others. He is currently teaching composition and pursuing a PhD in English Literature at the University of Texas at Arlington.
We invite the audience to participate in a brief open mike following the features. 3-5 minutes each. Open mike begins approx. 8:15PM