1st Saturdays: 4-6 pm @ Half Price Books, 5803 E. NW Highway
3rd Saturdays: 4-6 pm @ Oak Cliff Cultural Center, 223 W. Jefferson
Instructors: Sebastian H. Paramo and Robert Torres
WordSpace Next Generation Project supports the development of young writers, presenting writing and performance workshops mentored by top Dallas poets and educators. The workshops are open to ages 13-19. Selected participants also have the opportunity to appear in WordSpace Salons alongside experienced writers. Traveling writers visit workhops as special guests and young writers are given opportunities to submit their work to publications and performances.
For more information, email: NextGeneration@wordspace.us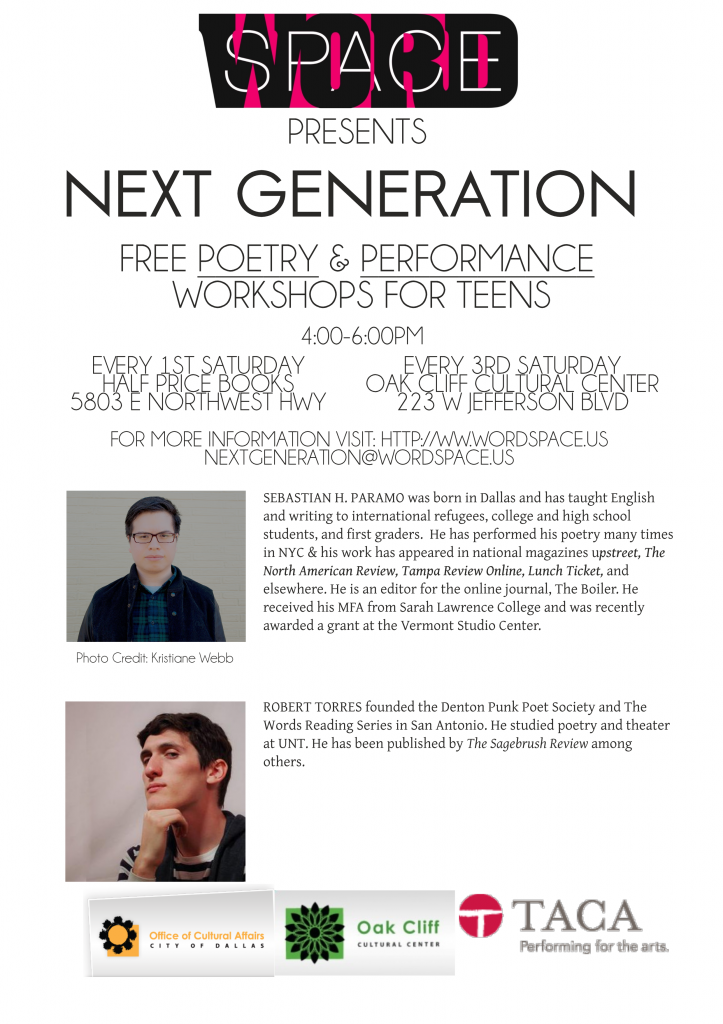 Atma Bhakti Yoga Center offers a weekly Monday night yoga class benefiting WordSpace Next Generation youth projects. Suggested Donation: $5-15. Mondays, 6:30, 6315 Lindsley Ave, Dallas, TX 75223 in East Dallas near Lindsley Park.
Taught by an Experience Registered Yoga Teacher (E-RYT  500 hour), this gentle yoga class culminates with a writing exercise and open floor reading by participants. Or bring your own rigorously self-investigative poems to share.