OK, that question is facetious.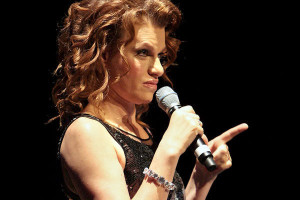 Sandra Bernhard has not made a name for herself by not speaking her mind, on any topic and in any venue. We look forward to her doing the same at the Kessler Theater on October 23 at 8:00. She opens the WordSpace at the Kessler season which will also include appearances by Nikki Giovanni, Laurie Anderson, and John  Waters. Tickets for Sandra Bernhard and Nikki Giovanni are currently available at Prekindle.
What can you expect from Sandra Bernhard at the Kessler? We can only hope, as Bette Davis said in All About Eve, that we should fasten our seats belts for a bumpy night.
Check out Sandra Bernhard on Canadian TV for a sense of her thoughtful/acerbic side