Dia de los Muertos @ Tyler-Davis Arts District
When: Wednesday November 2nd, 2011
Where: WordSpace, 415 N. Tyler St.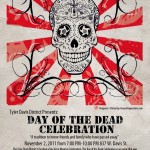 WordSpace is honored to host Teatro Dallas for a special performance in the block long celebration of life and death, as we join our block in throwing down the candy, grins, tears, art and ambience. Regular neighborhoold playas, Incense and Peppermints, Oil and Cotton and CoCo Andre are all in the mix, as well as To The Ends of The Earth and Gallery Bomb.
The Day of the Dead Celebration is a tradition that was created to serve the public need to mourn, reflect, and celebrate the universal experience of Death, through their ancestors, loved ones, and the living. Join us as we honor and celebrate the rich traditions of the Hispanic Community in the heart of Oak Cliff for an unforgettable Día de los Muertos Celebration.
Festivities include live music, interactive art workshops, face painting, altar tour, storytelling, educational presentation on history of Day of the Dead, sugar skull decorating, papel and hot chocolate.
---
Leave a Reply
You must be logged in to post a comment.