Tyler-Davis Arts District Block Party
When: Saturday August 13th, 2011
Where: 415 N. Tyler St. and The Whole Block!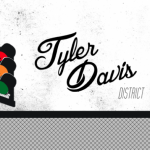 Come out and get sizzled at the Tyler Davis Block Party! Check out our new neighbors and friends in historic Oak Cliff- Tom Battles Custom Picture Framing has a grand opening at his new space, 413 N.Tyler, 4-8pm and Gallery Bomb opens, 407a N.Tyler, with a premiere opening "Sugar Coated Memories" featuring new work by Loretta Gonzalez, 6-9pm. MFA Gallery, 419 N.Tyler, hosts the "Superbad" show, infamous artists Brian Jones and Brian Scott will judge the best of the worst, 6-10pm. Be sure to drop by our WordSpace office, 415 N.Tyler, chillax and pick up the new Fall Schedule of Literary Events. Incense and Peppermints, 421 N.Tyler, will be further putting out the good vibes with live music and art. Across the street at Oil and Cotton, 838 W.Davis they'll be celebrating their new Back Porch Studio with festivities throughout the day. Over on Davis, Kelly at The Rose Garden, 841 W.Davis, promises special event day bargains, always some great finds at the Garden. And don't forget to visit Wendi at From the Ends of the Earth, 835 W.Davis for Fair-Trade exotica from around the planet. Stop in at CoCoAndre, 831 W.Davis, for, really, just the best chocolate treats in Dallas. And Daniel and Manuel Padilla Gallery, 829 W.Davis, are helping further the arts in the Cliff with their fine work. Expect Complimentary beverages, snacks, scenes and suprises! See yall out there!
Our office, staffed by Program Director, Karen X Minzer, is in Dallas's Oak Cliff neighborhood. It is an open door for artists, poets, educators and community leaders to interact and interface their work with ours. It also provides open-genre venue for salons, workshops, booksignings, iCHat and other experimental genres, not to mention the ongoing X+ Arts, Bishops Arts, and Tyler/Davis Arts block parties and festivals. Our office is located at 415 North Tyler St., Dallas, Texas 75208. Stay tuned to our website for any last minute planning over here in this very active and vital Dallas arts and culture scene.
Hosted by Karen X and WordSpace Gang
Become a WordSpace Member!
---
Leave a Reply
You must be logged in to post a comment.